About Us
Merging Computational Biology with Innovation
We have built a unique skillset and experience in the development and the application of computational biology tools to support the advancement of research goals in personalized medicine and nutrition. At COSBI, we combine technology and innovation with commitment to deliver results and quality to our partners.
Who we are
An unique private - public partnership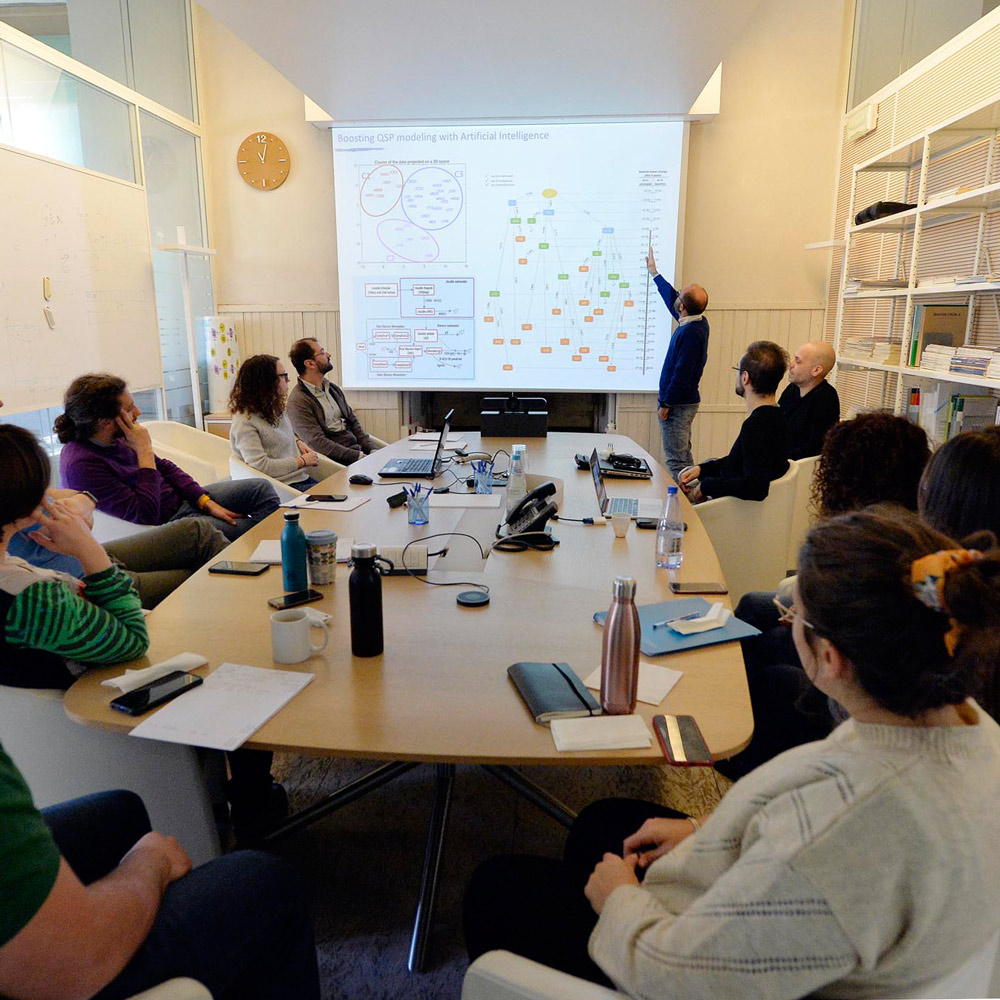 The University of Trento
In its 60 years of history, The University of Trento has always provided a great study and research environment to its more than 16.000 students that choose this medium sized university surrounded by the Dolomites to build their education and future working and academic path.
The Microsoft Research
Since its foundation in 1991 Microsoft Research has blended academic and commercial culture to enable some of the best minds on the planet to take on bold challenges at planetary scale.
Our founders
Enrico Domenici
University of Trento
Enrico Domenici is Professor at CIBIO, the Centre for Integrative Biology of the University of Trento, where he leads the Neurogenomic Biomarker Unit. He joined the academia after 25 years of experience in Drug Discovery, where he has led several projects in different therapeutic areas. Since 2000, his main focus is the discovery and validation of biomarkers in neuroscience by integrating genomics and proteomics in preclinical and clinical context.
Andrea Pugliese
University of Trento
Andrea Pugliese is professor of mathematical analysis and mathematical biology at The University of Trento. He has been Visiting Scholar at Cornell University, Fulbright fellow at Princeton University, Visiting Professor at Arizona State University, and has given seminars at several universities and research institutes.
Pier Paolo Boccadamo
Microsoft Italia
Pier Paolo Boccadamo is Partner Marketing Advisor at Microsoft Italia and member of Microsoft Western Europe organization that supports partners in their go to market strategies and growth ambitions. He covered many roles in different divisions throughout his own career at Microsoft, from Support and Consulting, to Business Development and Marketing, passing through Open Source Strategy and Startups group, at Italian, Regional and Corporate level.
Fabio Santini
Microsoft Italia
Fabio Santini is Executive Director Partner Channel & Small, Medium, Corporate Markets at Microsoft Italia, leading the organization responsible for making possible Microsoft mission, to empower every person and every organization on the planet to achieve more. He is also responsible to drive Microsoft cloud overall business in the small, medium and corporate customers.
Silvia Parolo
Head of Systems Biology
Silvia Parolo joined Fondazione COSBI in 2015. She managed and participated in numerous projects spanning various therapeutic areas such as neurodegenerative diseases, autoimmune and metabolic disorders. Silvia holds a PhD in genetics and molecular biology.
Luca Marchetti
Head of Computational Biology
Luca Marchetti serves as scientific supervisor of the Computational Biology group in the areas of Biomarker identification and Quantitative Systems Pharmacology (QSP) modeling. He is also Assistant Professor and Head of the Computational Modeling Laboratory at the CIBIO Department, University of Trento. He is co-author of more than 40 scientific papers and he is/has been co-advisor of several stage/bachelor/master thesis and PhD students.
Karim Azer
Axcella
Karim Azer is the Head of Systems Biology and Discovery at Axcella, leading the Axcella Systems Biology Platform, integrating advanced systems biology, computational biology, translational and mechanistic modeling, and cell biology capabilities for the discovery and development of novel treatments in therapeutic areas with unmet need, and bringing important medical innovations to the patient.
Bryn Roberts
Roche Information Solutions
Bryn Roberts as Global Head of Data Services at Roche Information Solutions leads data services for Roche Diagnostics. His accountabilities include data strategy and engineering, data science, data governance and information solutions. His career goal continues to be driving and enabling the delivery of innovative healthcare solutions that address significant unmet need.
Larry Wienkers
Larry Wienkers Consulting
Larry Wienkers is Former Executive Director of Pharmacokinetics, Dynamics and Metabolism at Pfizer and former Vice President and Global Head of the department of Pharmacokinetics and Drug Metabolism at Amgen. One of his long-standing research interests is focused on exploring bioactivation pathways associated with small molecule drug metabolism with particular focus on the prospective application of this information to predict drug-drug interactions in the clinic.
Corrado Priami
University of Pisa
Corrado Priami is professor of Computer Science at the University of Pisa, where he acts as Rector's Delegate for Research Exploitation and New Entrepreneurial Initiatives. He is the Founder and Director of the SPARK Pisa Initiative. He has 25+ years of academic and industrial experience in the application of computational technology for pharma and food companies. He is the founder of COSBI, that he led 12+ years as President and CEO.
Flavio Deflorian
University of Trento
Flavio Deflorian has been the Rector of The University of Trento since April 1st 2021. Full Professor in Materials Science and Technology at the Department of Industrial Engineering, he has held various institutional positions for the University of Trento such us Member of the Academic Senate for various mandates and Deputy Vice-Rector with responsibility for supporting the production system.
Jim Karkanias
Microsoft Corporation
Jim Karkanias is CTO and Director of Data Science at Chan Zuckerberg Biohub. Previously he held the role of Partner at Microsoft leading Program Management for Information Management and Machine Learning in the Cloud + Enterprise Division. At CZ Biohub he has built a world-class Data Science team and he is helping to drive and support advances in bioinformatics, computational biology, image processing, and next-generation analytics.
Way of Working
WOW Approach
Universities and Research Centres
Partners
Obbligo di trasparenza per contributi ed agevolazioni pubbliche
Ai sensi della legge n. 124/2017. art. 1, commi da 125 a 129, si dichiara quanto segue:
La Fondazione The Microsoft Research – University of Trento Centre for Computational and Systems Biology il 02/12/2021 ha incassato la somma di Euro 849.187,87 dall'Università degli Studi di Trento (P.IVA: 00340520220) in riferimento all'Accordo di Programma per il periodo 2017-2018, causale "'CONTRIB. ATTIVITA 2017-2018 AI PAT DET.46".
Si dichiara inoltre che la Fondazione ha in essere un contratto di comodato gratuito di beni immobili, stipulato con TRENTINO SVILUPPO SPA a socio unico (P.IVA 00123240228)